Solo exhibition at II Gallery. Check it out.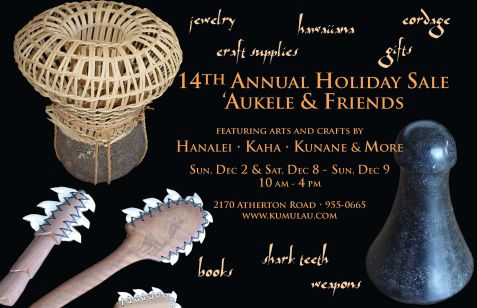 https://maps.google.com/maps?q=2170+Atherton+Road,+Honolulu,+HI&hl=en&sll=20.46,-157.505&sspn=6.831339,9.832764&oq=2170+atherton+road&t=h&hnear=2170+Atherton+Rd,+Honolulu,+Hawaii+96822&z=17
This year's Maoli Arts Month Wearable Art Show 2012 will be held on May 17th at the historic Hawaii Theatre. See the link below for further details.
http://www.maoliartsmonth.org/2012/03/06/mamo-wearable-art-show-vouchers-for-sale/
This is an announcement for the 2011 Holiday Sale that a group of friends and I do every year. This event generally showcases a wide range of Hawaiian cultural products and related raw material needs. Only cash and checks accepted.